Start Learning Embedded Systems with AVR Atmega32 Controller
A Beginner Friendly Course to Quickly Learn AVR Microcontrollers using Embedded C without having a development board
Embedded Systems using AVR Atmega32 Microcontroller
Analog to Digital Converter on Atmega32
Atmel Studio and I/O Interfaces
Program Downloading on Hardware board
Beginner to Advanced Level
Course Completion Certificate
I have created this course to make learning AVR Controller easier and fun.
Course Requirements
Basic Electronics Understanding

Basic know-how of C Programming is recommended but not required

Atmel Studio (Link provided)

SimulIDE simulation software (link provided)
Course Description
Have you been thinking of learning AVR microcontroller but couldn't get a head start because its too confusing and you don't have hardware?
And on the top of it the incomplete tutorials on internet just makes things worse.
Well this course is designed perfectly for those who wants to quickly start learning and experimenting.
"I believe everyone can learn and excel in technologies with right tools and proper guidance. Hence I make these courses and 50% of all my courses is available for free preview, watch them, if you feel right, enroll!!! I hope you'd like this transparency!!!"
I believe anyone can learn and excel using AVR controllers with Right guidance and proper tools.
Hi, my name is Amit Rana and I have created this course to get started with learning AVR microcontrollers using C coding. This is a complete beginner friendly Embedded systems course on AVR microcontroller. This course is designed for absolute beginners. We'll be studying and experimenting on atmega32 microcontroller in this course using all simulation tools so its totally fine if you don't have any hardware tools with you.
"What is there to loose if you enroll in this course? You have a 30 day Full Money Back Guarantee, enroll now and start learning AVR Controller"
Take Free Preview, you'll love it 🙂
Take the free preview before enrolling the course, 50% of the course is free for you. Decide if its good for you or not even before enrolling. See and decide if you can understand and cope up with the content and the presenter of the course. I've spent hundreds (literally) of hours in creating this course and hence want to help maximum students with it. For many of the learners, even this 50% of the content is all they were looking to learn.
You'll start creating your first program within an hour of starting this course.
As promised, it's a beginner friendly course and hence complicated discussions are not included in this course to make this simple for beginners to understand
Anyone who has some understanding of electronics can enroll in this course and start experimenting with Atmega32
All practices are taken in simulation software so you don't need to purchase any additional hardware for it.
By the end of the course, I'll also give you a complete layout of Atmega32 development board which you can make for yourself.
So enroll now and start experimenting on AVR controllers
"What is there to loose if you enroll in this course? You have a 30 day Full Money Back Guarantee, enroll now and start learning AVR Controller"
Thank you
Who this course is for:
Students
Working Professionals
Hobbyists
Anyone interested to Learn AVR Controllers
In this course, we'll study about
Fundamentals of embedded systems
AVR microcontrollers architecture
Pinout and features of atmega32
Atmel studio and C programming with it
Input and Output ports
Analog to Digital Converters
Timers
Counters
LCD interface
Interrupts
Serial Port interface
How to perform all simulations and
How to download program into flash memory of microcontroller.
The exercises are concise and well explained. Examples are excellent and easy to understand. A great course I would recommend to all!
He actually taught me something ! much better than any professor I had in college
Very beginner friendly course . Awesome explanations . Easy to understand
It is a very informative course
The course is nicely designed for beginners as well as professionals. I recommend this course to anyone interested in learning fast in no time.
Features
Complete beginner friendly approach
Those who are complete strangers to embedded systems can also join and start experimenting with Atmega32
All Practices on Simulation
All resources provided in single file
Required minimum Hardware exposure
After taking this course, you'll be
Confident and comfortable with Embedded Systems and its interfaces
Able to create projects on atmega32
Learn newer microcontroller with confidence
Get good hands-on exercise on embedded C Coding
Udemy Pack
Approx ~ $10 USD

Complete Online Course

Lifetime Access

Course Completion Certificate

Personalized Instructor Support through email and messaging system

Direct Contact with Insturctor on phone / whatsapp / telegram
Remote Desktop Support for any unsolved queries
Kitflix Pack
Approx ~ $14 USD

Complete Online Course

Lifetime Access

Course Completion Certificate

Personalized Instructor Support through email and messaging system

Direct Contact with Insturctor on phone / whatsapp / telegram
Remote Desktop Support for any unsolved queries
Instructor
Meet your Instructor
Amit Rana
Electronics Engineer, Developer and Trainer
Amit Rana is an Industrial Consultant for Internet of Things, Embedded Systems Product Development Specialist, Online and Corporate Trainer.
Currently building a platform for everyone who is interested in learning electronics and related technologies. Technologies including Internet of Things, Embedded Systems, Programming, Circuit Design and PCB Design through an online platform called kitflix
Kitflix is all about learning technologies online via tutorials / video lectures and interesting project works.
Amit holds Masters Degree in Electronics Engineering. He has 10+ years of Experience in Embedded System Designing and programming using various micro controllers, And have deployed more than 250 different embedded and IoT projects around variety of Industries.
His online students count is more than 50000 and spans more than 146 Countries across the globe
He has Worked on multiple Embedded technologies and devices for development of customized embedded solutions for industries and various product development requirements. Ranging from simple counter to IoT system for CNC machines and end to end product development for smart cars, Amit has made his passion for electronics and programming a hobby and a full time profession
Amit is also a professional writer who writes blogs on technology and education. He has done writing assignments on technical documents writing for few clients and he writes blogs on his website.
Amit is an avid reader and also loves cooking, he loves to read books on various topics and spend his spare time with his family cooking variety of dishes with his kids.
Q. Is it true that I can get all this information for free on internet? Then why this course?
The answer is "yes"
absolutely you'll get all the information shared and taught in this course for free on internet. But to make use of those information, you'll have to juggle through countless old blog posts and videos and non-working source codes and circuit diagram. With this course, you'll save all that time and get a clean information from single source which is perfectly crafted for learning. Moreover, any non-working code or circuit, you don't have to figure out anything, just post a question and you get the answer.
Q. Why not offer the course free?
The course price we offer is carefully crafted keeping in mind many things, most importantly
You have lifetime access to this course and all its updates over time
The course payment helps us keep the platform alive and give you unparalled personalized support
Q. I have some other question
Please send us a message and we'll be happy to assist you with any of your queries
Q. How long do I have access to the course?
Forever!!!
Truly, you'll have access to the course forever
Q. Can I request more content?
Absolutely!!! We love to add content upon student requests.
Q. Can I ask my questions even after completing the course
Yes, we know that there will be very little doubts while you're learning. Everything seems obvious. But when you start making projects, then the real questions and doubts will hit you, and that's exactly where we shine. We will answer your real time project queries as well.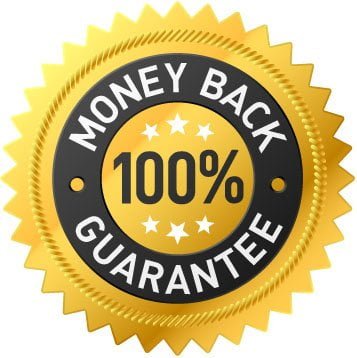 Enjoy a 100% money back guarantee.
After going through our course,  if you haven't learned the Raspberry Pi, Internet of things or anything related, then we don't want your money. That's why we offer a 100% Money Back Guarantee. Simply send us an email and ask for a refund, up to 30 days after your purchase. Till now, We can count the number of refunds on one hand. All our students are satisfied and you will be too.
For Udemy refunds, contact Udemy support from your student dashboard